I've previously noted how important Google Plus is becoming to both search engine marketing and social media marketing. But watching this video on how overly biased Google is in offering Google+ results makes me think perhaps I underestimated just how important.
Don't worry so much about whether or not the bookmarklet demonstrated in the video is needed – just look at how many times the social results are reordered.
It raises questions about misconduct, but that's for the American FTC to handle. It's bad news for Facebook and Twitter, but they're big enough to handle it. What I want to discuss is…
What We As Marketers & Business Owners Can Do About It
Get on Google Plus. That's a no brainer.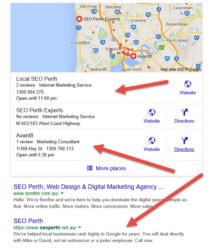 Next build a Google+ Page for your business.
Finally, figure out how you can best use Google+ to engender interaction with your business.
Google+ is still so very new, no-one knows what's going to work on it. It really is a case of trial and error. What might work for one person may not work for another.
But like we did with Myspace, Twitter, Linkedin & Facebook, just being consciously active on the platform is the best way for you to get to understand it. Heck, you might get so good at "doing" Google+ that others want you to teach them how to do what you do.
I may not have any answers yet on how to best utilise Google+, but recent developments have demonstrated beyond a shadow of a doubt that if you're not at least on Google+ you're going to get hammered by your competitors who are.
2016 Google Plus Update
It seems the confusion we had back in 2014 over Google+ was justified. Google itself doesn't seem to know what it wants to do with the platform. We had it integrated with Google Maps (or Google Local, now Google My Business) and with Picassa, but now Google Plus is largely irrelevant. It didn't have the social traction we expected.
For a time, connecting your G+ profile to a website as an author would get your picture displayed in the SERPs. That was cool while it lasted, but it probably put too much strain on Google's servers for the benefit it gave.
What is G+ Like Now?
As of July 2016, Google+ is a ghost town. You get a profile when you sign up to things like Youtube, and it's deeply integrated with Youtube's comments and reviews on Google maps. If it weren't for those two, I'd guess the platform would be shut down.
You have to hand it to Google though; not content to rest on their laurels, they're always trying things to improve their offerings and market reach. They might have a monopoly on search in many countries, but that doesn't seem to be slowing them down. Sure they have failed in a number of projects, but that process brought us maps and google local, which are now as deeply integrated with many people's lives as search.
While all those tests were going on, it was really important from a branding perspective to be active on the platforms. Unfortunately that did not translate to better search engine rankings as many of us expected.
Where To From Here?
You can't get away from having a profile, so that will continue. It's useful for semantic integration and it will be interesting to see whether Google integrates plus profiles with what (if anything) replaces freebase in the semantic web. You'll still sort of use the platform when you do local business optimization. I've not seen any particular search engine benefit from commenting on Youtube videos, though that may help you rank on Youtube.
Essentially, I think we're well past the time of a heavier Google+ bias.