So you've done your keyword research and figured out which keywords you want to go after with your site.
If you've got a website already established your work is half done. Tweak a few pages, get some links to those pages and watch your site shoot up the rankings.
Slight problem – which pages should you choose? Of all the pages on your site, which is already the best optimised for each keyword? Which will require the least amount of work?
Aims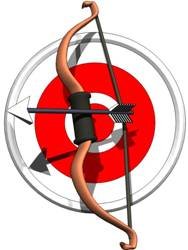 You're looking for two pages. Why 2? So you can get a highly coveted double listing on the first page of the search engines. My suggestion for these two pages are either:
Your home page and the best suited internal page;
The commercially best page and the most relevant page; or
A category page and a specific product page (especially if you run an ecommerce site).
The Method
To find the most relevant page for an established site according to Google, go to Google and search for:
your keyword site:yourdomain.com
The pages will be roughly sorted by relevance. Keep in mind that there will be some sorting based on freshness, so if the top few results are blog posts from the last week or so, I'd be inclined to ignore that and move past them.
Another way to do this is to go to advanced search (click the gear icon in the top right of your browser window when you're at Google and select Advanced Search). Change the results per page to 100, type your keyword into the "all these words" box and click "Advanced Search".
Now just do a find (CTRL+F or CMD+F) for your domain and see which page ranks first. You may need to go in a few pages if you haven't done much SEO or that keyword is especially competitive.
Analyse & Tweak
I'll cover it another time, but the basic process from here is to analyse your web page for the keyword. Next you fix up the issues the report showed up. Finally, build some links to that page using variations of your keyword as the anchor text.
Keep building links to that page using your keyword variations and you'll sooner or later see first page rankings. Yes, SEO really is that simple.