One of the best things about social media apps like Hootsuite, Seesmic or Echofon is the ability to run social media campaigns for multiple platforms from one location.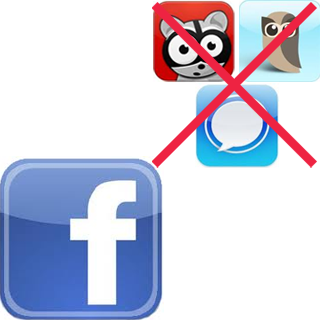 However, if you're using 3rd party apps with Facebook, you need to stop right now.
When Facebook brought in their algorithm to weight posts in your feed, 3rd party apps copped a penalty. So if you posted to your Facebook Page or Profile using Hootsuite, many fewer people would see it than if you used Facebook's website or the official Facebook app on your phone.
In the last few weeks, Facebook added a feature similar to the "Post to Circles" in Google+. Now when you post to Facebook, you can choose which groups of people can see that post. It's a great development, but again, 3rd party apps have copped a penalty.
It seems that 3rd party apps (or at least Hootsuite, which I've tested) default to post to "Only me", which is Facebook code for "Private". That means NO ONE WILL SEE IT! It gets worse: if you check your Facebook feed you'll see it has posted, so you don't realise anything is amiss. There just won't be any comments or likes.
To check whether your post is visible to only you, look for this icon when you hover your mouse over the status in question:
If it is visible to your friends, you should see this icon:
You can manually change who can see your post, but that kind of defeats the purpose of using the 3rd party app, doesn't it?
So why is Facebook doing this? If you've been following Facebook's development, you'll notice they are heavily focused on building what they call a "sticky" website. That's a site that people spend a lot of time on. With that in mind, you can see how they really want to get people away from 3rd party apps and back onto their website. They can do it because, let's face it, would you rather tap into a community of 800 million people (and still growing) or give it up in protest because they won't let you use your favourite desktop application?
Maybe the app developers will find a way around the default posting settings. Or perhaps it's hard coded into the Facebook API. I don't know. Even if there's a way around it, you'd still face the weighting penalty I spoke about.
The "Private Penalty" doesn't apply to posting to Facebook Pages at this stage, but the weighting penalty still applies and is reason enough not to use 3rd party apps with Facebook.
Bottom line: as annoying as it may be, just don't use 3rd party apps with Facebook right now.
Can anyone confirm whether or not this feature of marking posts "Only me" is present in other apps?