The Australian Financial Review messed up big time yesterday, printing a front cover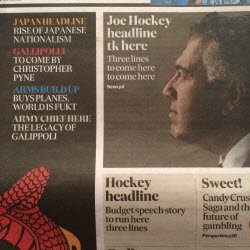 that beggars belief for such an esteemed publication.
They dropped the "f bomb" and had a number of instances of filler text. Obviously not ready to go to publication, yet it did… and distribution… across the whole country… to virtually every business…
If you or I did that in our "regular" business we'd be hard pressed to survive.
But that got me thinking – this isn't going to hurt the Fin Review's brand. If anything, it'll strengthen it because of all the extra publicity. People that wouldn't usually buy a copy will have done so just to see it for themselves.
Domain Authority functions in a similar way, which I discuss in this video:
So what's the upshot? Focus on building your Domain's Authority til it gets to the point where you don't need to worry about negative press, spam attacks or any other form of negative SEO.
Once your website is strong enough, unless someone goes nuclear on you, most attacks are actually going to help you. How's that for karma!