I've been doing online affiliate marketing since 2002 and have noticed a worrying trend for affiliate marketers: Google doesn't seem to like us as much as they used to.
Whether your affiliate business gets its traffic from pay per click, search engine optimisation, email marketing or social media, I'm sure you've found it's getting a lot tougher than it used to. Google is cracking down on many affiliates both through SEO and PPC. People on social media are increasingly likely to report you as spam if you even hint at trying to sell them something and email delivery rates are pretty poor.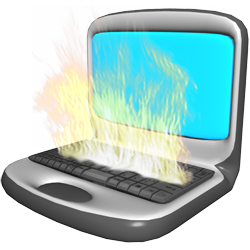 At the risk of causing you to set fire to my website (digitally, of course), may I suggest that you take your skills and begin to move beyond affiliate marketing? Build an actual, sustainable business that you have control over.
Yes I know it's a little scary. Maybe you "don't want to be bothered with all that customer support stuff", maybe you still crave the "set and forget" business model. Maybe you just don't think you're any good. Hey, we've all been there.
It's time to take some of those eggs out of your one basket and spread them out a little.
There are still fortunes being made in affiliate marketing, no doubt about that. But if the food being on your table is reliant on your affiliate income, that's just not smart. I know a lot of people who do just that. They think that diversifying means getting traffic from another source.
It's not.
If you've had some success with affiliate marketing, you already have a killer skill set. You are already at an advanced (maybe even expert) level at getting traffic to a website.
Use that.
Some ideas of extra business models you could add to your current affiliate model:
Offer your traffic getting skills to some local businesses for a fee. I'm sure they'd LOVE some of the visitors to their website that you could get them with little effort!
Create and sell your own products. Don't create internet marketing products unless you're truly elite (in which case why are you reading this? hehe). Build a product that competes with your current best selling affiliate program – you already know the market like the back of your hand and probably have all the funnels in place. The product can be one you write, or go to Odesk and get an ebook ghost written. Flesh it out with your own knowledge, understanding and research and make something you'd be proud to sell.
Write a blog. You'd be amazed at the benefits that can come from blogging, whether that's in ideas for a new product, refining your communication style, advertising revenue, building a community around your personal or corporate brand, etc.
Get in touch with some traffic related agencies in your area. Who knows, you might strike up a relationship with them and they may hand off clients too small for their organisation that could be perfect for you. Or even pay you a salary to do exactly the same as what you're doing now for an affiliate commission.
If you've spent any time in the affiliate game, you know that your income could dry up instantly. One of my most reliable sources of income in the early days paid me an average of $1,000 per month without fail. Then one day they just shut down their affiliate program. No warning, just a "sorry, we want to do things differently". And that's their prerogative. But it's tough for a university student putting himself through lawschool to suddenly lose $1,000 per month.
It can happen to you just as easily, but imagine if it's an entire network that bans you. Imagine if Clickbank or Commission Junction get a bad report about you (false I hope lol!) and decide to cut you off. Can you afford that?
Look at it as if your affiliate business is a job. Keep doing it, but start a part time business using one of the models I listed above, or something else.
Just don't put all your eggs in one basket.