If you're just starting out online, you probably know you need a website.
But with all the options available, how do you know what you need? What's going to best help you achieve your vision for your online business? Do you need a blog? What are all these Perth web design companies offering? What if all you want is a few pages on a website that function as an extended business card? Or do you have an existing website that is in desperate need of an overhaul?
Having built hundreds of websites and assisted on countless more, we have the experience to help you figure out what web design you need and then build it for you.
Whether you want an "online business card" all the way up to a full blown marketing site that you can get ranked higher, we're here to help you.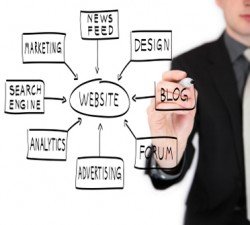 We've helped lots of small businesses and individuals with their website design.
Website Design Expectations
We'll sit down with you and figure out together what you want your site to do and who it's targeted at. We'll help you decide on the layout, colours and content.
Most of the sites we build use wordpress; a free, open source platform that puts the power back into your hands.
We have found that many of our clients just want us to build the site and teach them how to use it themselves. We believe in most cases this is the best outcome for all concerned and with wordpress, you won't believe how easy it is to take command of your website.